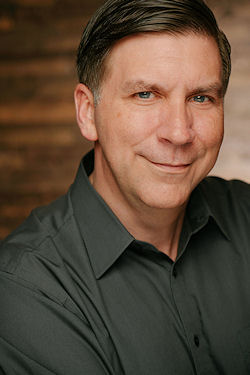 Hi everyone! From time-to-time, I send out emails like this one to let people know about my theatre, television and film projects. If you'd like to stop receiving these messages, just follow the instructions at the bottom of this email to remove your address from my mailing list. If you know anyone else who might be interested in my upcoming projects, ask them to stop by my web site at www.haroldphillips.net. They can sign up for my mailing list right on the home page. Or...
Forward To A Friend By Clicking Here
-Harold
Well howdy there everybody!
I hope spring is treating you well. It's been a pretty busy season for me thus far! I just got done working on Blue Seraph Productions' new film The Dark Place; the cast and crew on this project were absolutely wonderful, and from what I saw in the monitors this film is going to be quite a thriller! Be sure to follow The Dark Place on Facebook and Twitter to keep tabs on the movie as it goes through post-production and gets closer to its release date.
Next up for me is the sequel to The Falls, but...
We need your help to make The Falls II a reality! There are just three days to go on the film's Kickstarter campaign, and we're far below the $10,000.00 needed to fund production on this new feature. The cast and crew are set and we're ready to roll the cameras later this month - but it's going to be difficult to bring this continuation of RJ Smith and Chris Merrill's story to the screen if we don't get the funding we need.

Now, I know, I know... everyone from Zach Braff to your cousin Bertha is asking you to fund their Kickstarter project these days - and money's tight for all of us! I can't tell you that The Falls II is more worthy than any other "crowdfunded" project on Kickstarter... what I can tell you, though, is the first Falls has touched a lot of people around the world. We've heard from hundreds of viewers thanking director Jon Garcia for telling a story they've lived, but few people ever hear. We want to keep telling that story... and we need some help to do it. If you've got a few extra bucks to throw our way, please head over to The Falls II's Kickstarter page and contribute. We'd really appreciate it!


Ok... enough of that. Lets talk about where you can see me in the next couple weeks -



Ok, just one last thing before I let you get back to your day in peace...


If you follow my personal Facebook page or my Twitter feed, you know that I joined over 400 Oregon film and TV workers at the state capitol in Salem a couple weeks ago to lobby for House Bill 2267, which seeks to double Oregon's film incentives and bring more productions like Grimm, Leverage and Portlandia- and the jobs that come with them - to the state. We got a lot of attention from the legislature and the press on "Industry Day," and the bill received a very favorable hearing before the legislature's Joint Tax Credit Committee this past week.





Even so, HB 2267's passage through the legislature is far from guaranteed. The legislature's Joint Ways and Means Committee hasn't allocated funds for the bill, and that needs to happen before the bill can leave committee and head to the full House of Representatives floor for a vote. If you live in Oregon, you can help speed this process along - please take a moment to write to your state legislators (don't know who your state legislators are? Don't worry - you can find out here!) If you don't live in Oregon but know someone who does, please encourage him or her to write to their legislators - we need every voice we can get in support of this bill so we can keep building our industry and putting Oregonians to work!
Well, that's it for the moment. As always, keep and eye on my Twitter feed and Facebook page to get "up-to-the-minute" updates!
Hope you're all doing well...
-Harold